PHP Express, November 2019
Welcome
Good to see you again for Issue 3 of the PHP Express Newsletter!  We hope you're having a good start to winter and are looking forward to all the fun this season offers us in the Black Hills.  From snowmobiling, to skiing, snowshoeing, and other activities in between, there's always some fun to be had, no matter the season!

PHP Updates
Director of Sales position at PHP: 
I am thrilled to announce that I will be taking over the Director of Sales position for Powder House Pass.  Having been involved in PHP in various capacities throughout the years, coupled with having the familial connection, I am passionately driven to appreciate all our special development has to offer.  And, I am so looking forward to seeing your familiar friendly faces (for those of you I've already met) and am anxiously awaiting meeting those with whom I haven't had the pleasure thus far.  In addition, I welcome all who may be interested in Powder House Pass in the future!
To briefly summarize my background and acquaint you:  I was born and raised in Sioux Falls, SD, attending O'Gorman High School, and graduating from College of St. Benedict/St. John's University in Minnesota with a science degree.  Pursuing Dentistry, I landed a position in Rapid City, SD, working in a Dental office, to determine if that was my life's desire.  Eager for more variety in my pursuits, I transitioned into diverse professional business positions, from Front Office Manager, to Sales Manager, Business Team Leader, and Director of Sales.  I trust my varied background in Sales, Hospitality, Customer Service, Business, and Medicine, will aid me in my quest to do the best job possible for PHP and all of you!     - Sincerely, Kristin Pavon
Entrance Sign: 
The Powder House Pass entrance sign is now proudly in place.  The sign lights up the evening sky while reflecting the PHP namesake and logo, showing a powder house and train engine, which are depicted on the diamond-shaped sign hanging underneath the main arch.  Work is ongoing with stonework and additional rustic accents that will be incorporated into the signage elements.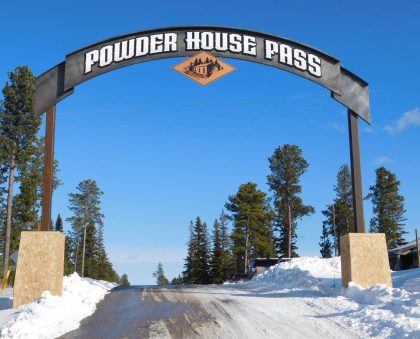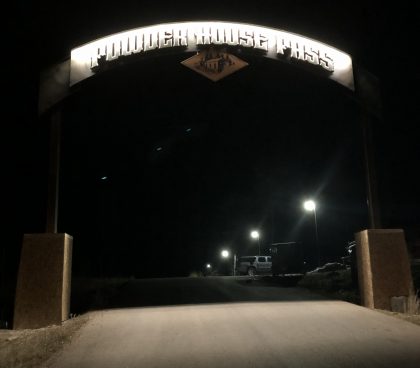 Road Repair: 
We are happy to report that most of the repairs to the roadways have now been completed, and we thank you for your patience and understanding.
New Roads: 
The first lift of asphalt paving of the new Autumn Lane is completed, with the final lift to be applied when weather permits.  However, in the meantime, it is drivable.  Embers Way is also under construction and will serve to provide another access point into PHP.
Parking:
A reminder to our residents and their guests/renters: no resident/guest parking is allowed on the PHP roadways or cul-de-sacs, nor is parking vehicles on yards/lawns.  A good way to create extra parking is by having a parking pad on your property, next to a garage, but preferably not fronting the home/between the home and roadway.  The recommended pad creates additional space for cars, trailers, etc., subject to approval by the CID Architectural Review Committee.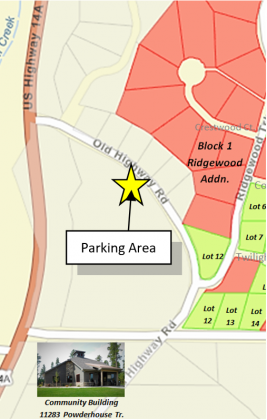 Overflow Parking for Trailers:
To help alleviate some of the parking problems for residents and guests, we have created a parking pad for overflow trailer parking. We suggest that you lock your trailer when it is parked in this area since PHP is not responsible for the trailers nor their contents. The location of this parking area is just off the old highway/Embers Way (see map).  Please note that Embers Way is in the process of being upgraded/improved, and thus access may not be possible while construction is taking place. Embers Way will be completed as weather permits.  
FYI:  Additional trailer parking is also available at Rec Springs, which is approximately a mile south on Hwy 85.  It is a State designated parking area and is adjacent to the Snowmobile Trail.
People of PHP
BLAKE STONER
Welcome to the story of another wonderful PHP owner, Blake Stoner.  Blake currently owns two lots and has been working with a few different contractors to hopefully begin building a home in the near future.  He can't wait to invite friends and family to enjoy the area!  Mr. Stoner currently works for an Electrical Generation and Transmission company in Bismarck, ND, as a safety coordinator.
Blake's journey into Powder House Pass began about 20 years ago, when he and his family were taking frequent vacations to the Black Hills to snowmobile, before Powder House Pass was even in existence.  Wishing to forego the hotels in the area, they began discussing the idea of purchasing a slice of Black Hills beauty for themselves, together.  However, they struggled to find a piece of land that checked all their boxes, and so their pursuit went by the wayside for quite some time.  Then, excitingly, several years ago, when Blake was traveling to Wyoming and the Northern Black Hills, he noticed Powder House Pass Development.  Shortly thereafter, he met Owners/Developers of the development, Jennifer and Greg Kaschmitter while attending the Bismarck Home Show.  It was there that Blake learned about the wealth of amenities that PHP offers, including access to the snowmobile trails and the presence of paved roads throughout the development, all checking the boxes on his wish list.  On the heels of the home show, Blake met with the Kaschmitters again to visit about lots and determine the feasibility of obtaining one at Powder House Pass.  A spec home on Ruby's Way was currently under construction and Blake was potentially interested in a lot near the home, one in which others were also interested.  Once Blake decided to take the advice of owner/developer, Jennifer Kaschmitter, and walk the lots to absorb the awesome views, Blake said, "It was as if a light switch had been turned on and I decided I needed to purchase that lot due to the spectacular views it offered of Deer Mountain and Terry Peak."  Blake stated that though it wasn't the most inexpensive lot, he was, "more than thrilled," with his purchase.  He went on to state that, "all the lots in PHP have something to offer.  There isn't a bad lot in the development."  And, Blake said his story confirmed his belief that, "the time to buy something is when you see it."
PHP's city-like amenities, paved roads, and snowmobile trail access remain Blake's favorite components of the development, and those he feels set Powder House Pass apart from other developments.  A likely guess, Mr. Stoner's most beloved activities include snowmobiling in the Black Hills (as he's been enjoying for the past 20+ years), as well as exploring the UTV trails during the other seasons with his recently purchased Polaris RZR.  Working with and getting to know Owners/Developers of PHP, the Kaschmitters, along with the rest of the PHP staff, has been an unexpected positive addition to Blake's life from purchasing at the development.  His prime choice for dining in the area is Oggie's at The Lodge in Deadwood.  Blake partakes in the occasional "tourist" activities in the area, in addition to his preferred snowmobiling and UTV'ing with friends and family, "enjoying the nature of the Black Hills."  When asked to describe Powder House Pass in a few words, he said it's, "A Little Piece of Heaven."  Blake finds PHP so appealing that when he discovered a friend's family was interested in building a vacation home in the Hills, he mentioned it as his development of choice, knowing his friend's draw towards the plethora of amenities.  They all toured Powder House Pass together and Blake's friend and his wife purchased a lot, as well, and recently completed their own home in PHP.  
We are so appreciative of Blake being kind enough to share his story about how he landed at Powder House Pass and we thank him for joining our fantastic community! 
-Kristin Pavon (on behalf of the Powder House Pass team)
Share Your Photos
We invite Powder House Pass residents/guests to please send any photos you might like to share of you/family/friends enjoying life at PHP or in the Black Hills area.  We will possibly use them on our website and/or through other marketing venues, such as our Newsletter, Facebook, etc.
Find Out More
For additional information about Powder House Pass, the amazing Black Hills area, activities/events, feel free to explore the following links.  We'd welcome you to like/follow us on the Facebook link provided below, as well.