PHP Express, June 2021
Welcome
Welcome to Summer and the PHP Newsletter Issue 9.  We hope you're all enjoying the fun-filled recreation that starts this time of year… from horse-back riding, to 4-wheeling, hiking, biking, sight-seeing, and much more.  Making memories in these Hills is always an easy adventure and right at your fingertips.
PHP Updates
Status of Development:
The newest area of Powder House Pass that we've recently opened is the Trailside Phase II B segment of the community.   Demand for our lots continues and sales alike.  We have sold 55 lots since the beginning of January 2021.
Lots - Phase I and II | Powder House Pass

Additional Pool:
As many of you have already likely heard or seen, we are very excited to share that we are building an additional pool at PHP.  This second pool will not be heated, but seasonal, while the initial pool will remain open/heated year-round.  We have begun construction on this second pool.  We're also thrilled to share that we're adding some wonderful features for our owners/renters/their guests to this second pool, including a kiddie splash pad, as well as a couple more gas firepits.  Powder House Pass truly hopes its owners and guests enjoy this added area!
Fun Photo in Phase II: 
A couple of years ago, the owners of Powder House Pass were viewing the area that is currently under construction for Phase II of Trailside Addition.  To their delight, there was an elk, stately standing, patiently waiting for Greg Kaschmitter, one of the owners/developers, to get his phone out and take a picture...what a site!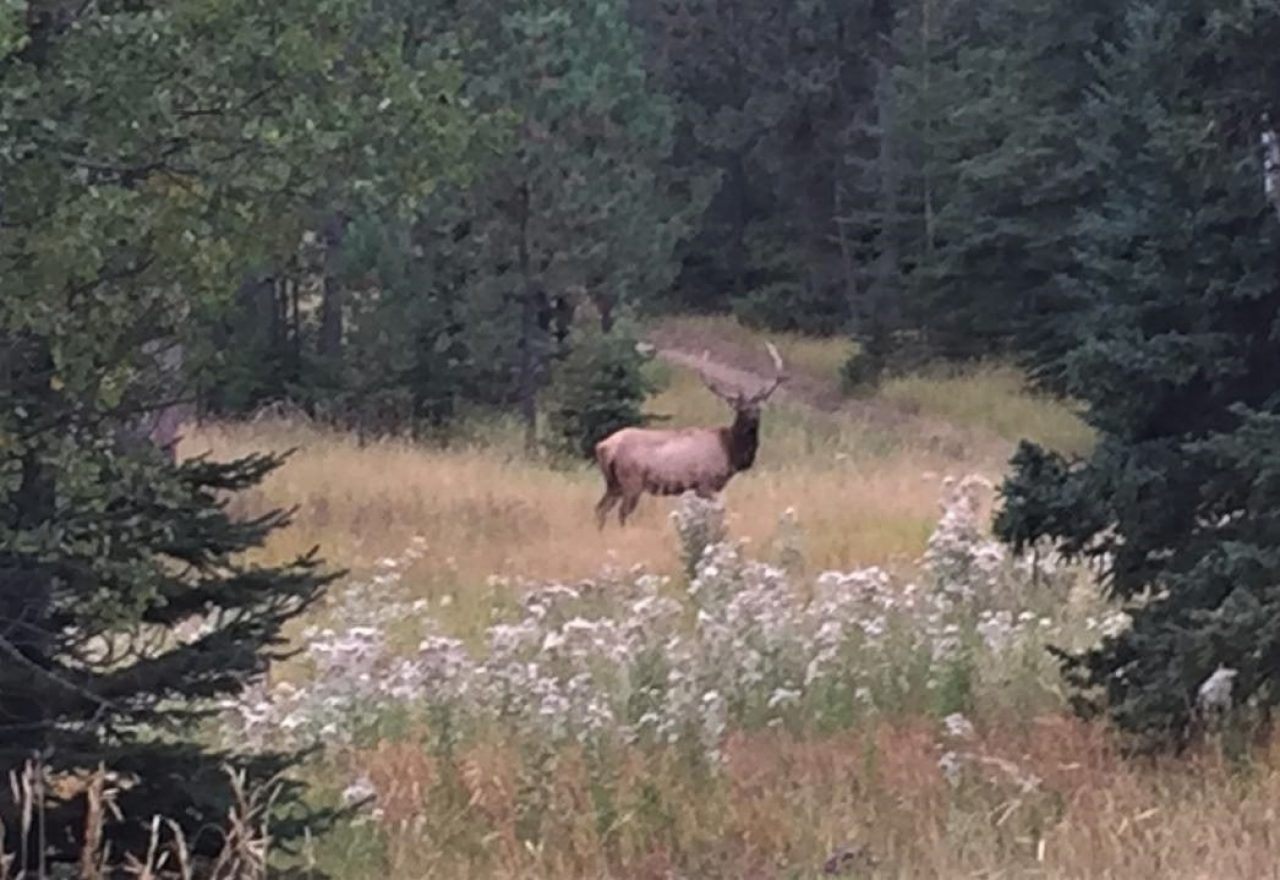 Overflow Parking for Trailers:
A reminder to our residents and their guests/renters: no trailers are allowed on the PHP roadways or cul-de-sacs, nor is parking vehicles on yards/lawns.  A good way to create extra parking is by having a parking pad on your property, next to a garage, but not fronting the home/between the home and roadway.  The recommended pad creates additional space for cars, trailers, etc., subject to approval by the CID Architectural Review Committee.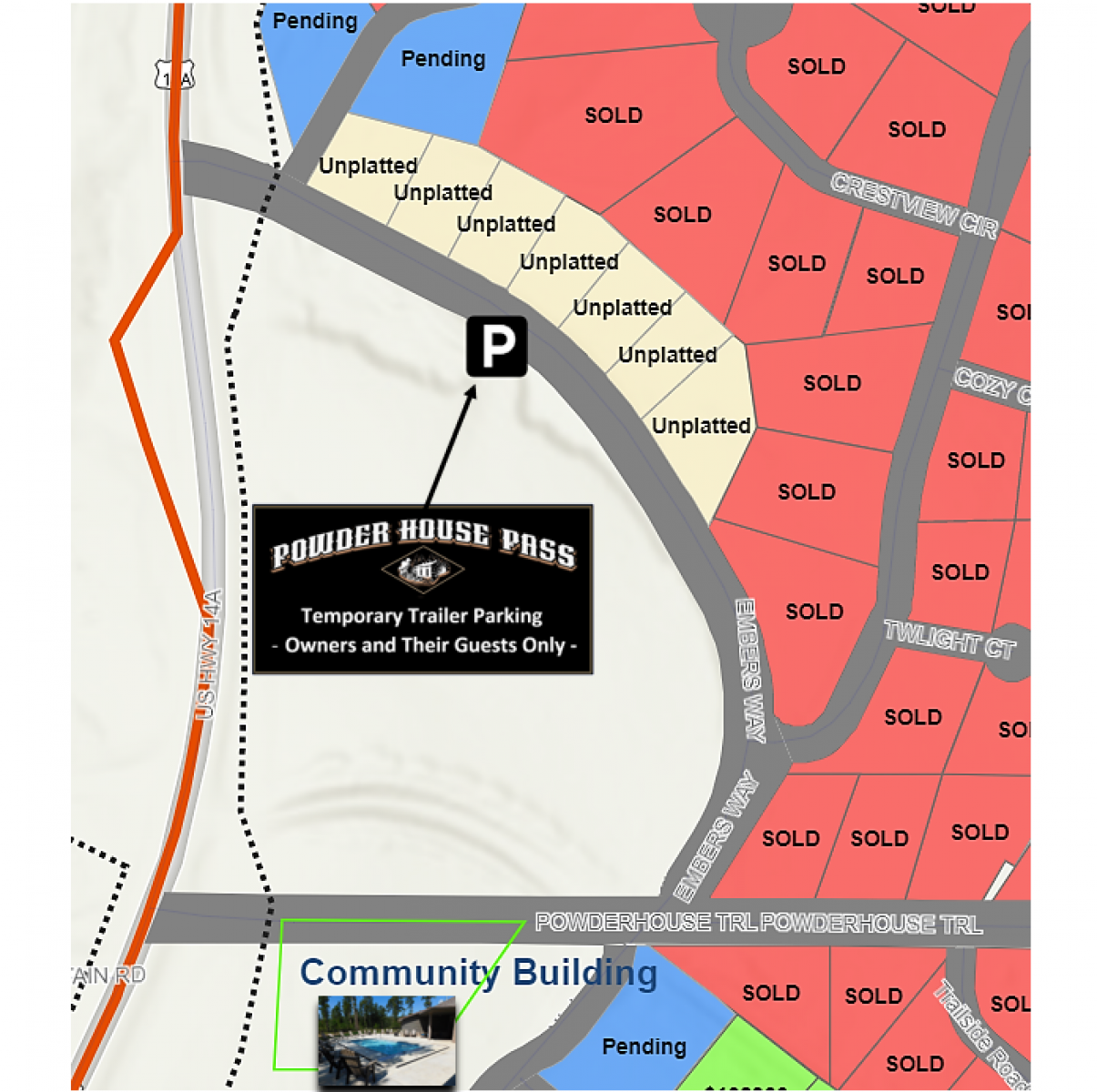 To help alleviate some of the parking problems for residents and guests, we have created a parking pad for overflow trailer parking (noted above). We suggest that you lock your trailer when it is parked in this area since PHP is not responsible for the trailers nor their contents. The location of this parking area is just off the old highway/Embers Way, noted with the black "P" on the previous map.
FYI:  Additional trailer parking is also available at Recreational Springs, which is approximately a mile south on Hwy 85.  It is a State designated parking area and is adjacent to the Snowmobile Trail. 
People of PHP
AMBER & MATT SYMONDS
We'd like to take the opportunity to share the PHP story of fantastic owners, Amber and Matt Symonds.  Residing in Spearfish, they both work for the South Dakota National Guard.  And, a fun fact that Amber shared regarding her work with the Guard:  As a young troop, she hauled gravel for a few summers, aiding in building the Mickelson Trail for the SD Rails to Trails project ("a movement  to ensure a better future America made possible by trails and the connections they inspire" -rails-to-trails conservancy website).  Amber & Matt are looking forward to retirement within the next few years. They have four children, ages 16, 17, 18, and 23.
The Symonds stumbled into PHP when snowmobiling a few years ago.  Driving through the Hills frequently, they'd always end up taking a jaunt through Powder House Pass.  Amber said, "That area just kept pulling us in – so we decided to build. I always dreamed of having an A-frame and we were lucky enough to know a contractor who knocked it outta the park for us!"  Amber & Matt have the A-frame home, as well as a recently purchased additional lot, which they hope to build on this summer.  They built the A-frame as an investment rental, but enjoy it themselves when opportunity allows.
When asked what their favorite thing is about PHP that sets it apart from other developments, Amber responded, "The commitment PHP management and the development owners have to continually make enhancements to the development and personal connections they build with the home owners, makes us feel we made a secure investment for years to come."  Amber said if they could describe PHP in one word or phrase, "Family Adventure," would be it!  They spend time throughout the year participating in activities, including winter sports of snowmobiling and skiing.  In the summer, they enjoy family gravel biking, hiking, using the ATV trail system, and spending time at the lakes. Pactola Lake is their kids' favorite summer hangout for cliff jumping and kayaking.  Amber's favorite spot in particular is Custer State Park.  She went on to state, "It has amazing wildlife, views, small lakes, hikes…my happy place." They also hunt.  As far as a pick for best restaurant, they really love Redwater Kitchen in Spearfish as a family favorite.  Plus, they said it's connected to Spearfish Brewery, which she states, "has the best brews in the Hills!"  Summing things up, Amber explained, "We are so blessed to live in the Black Hills!"
Please enjoy this snapshot of the Symonds family…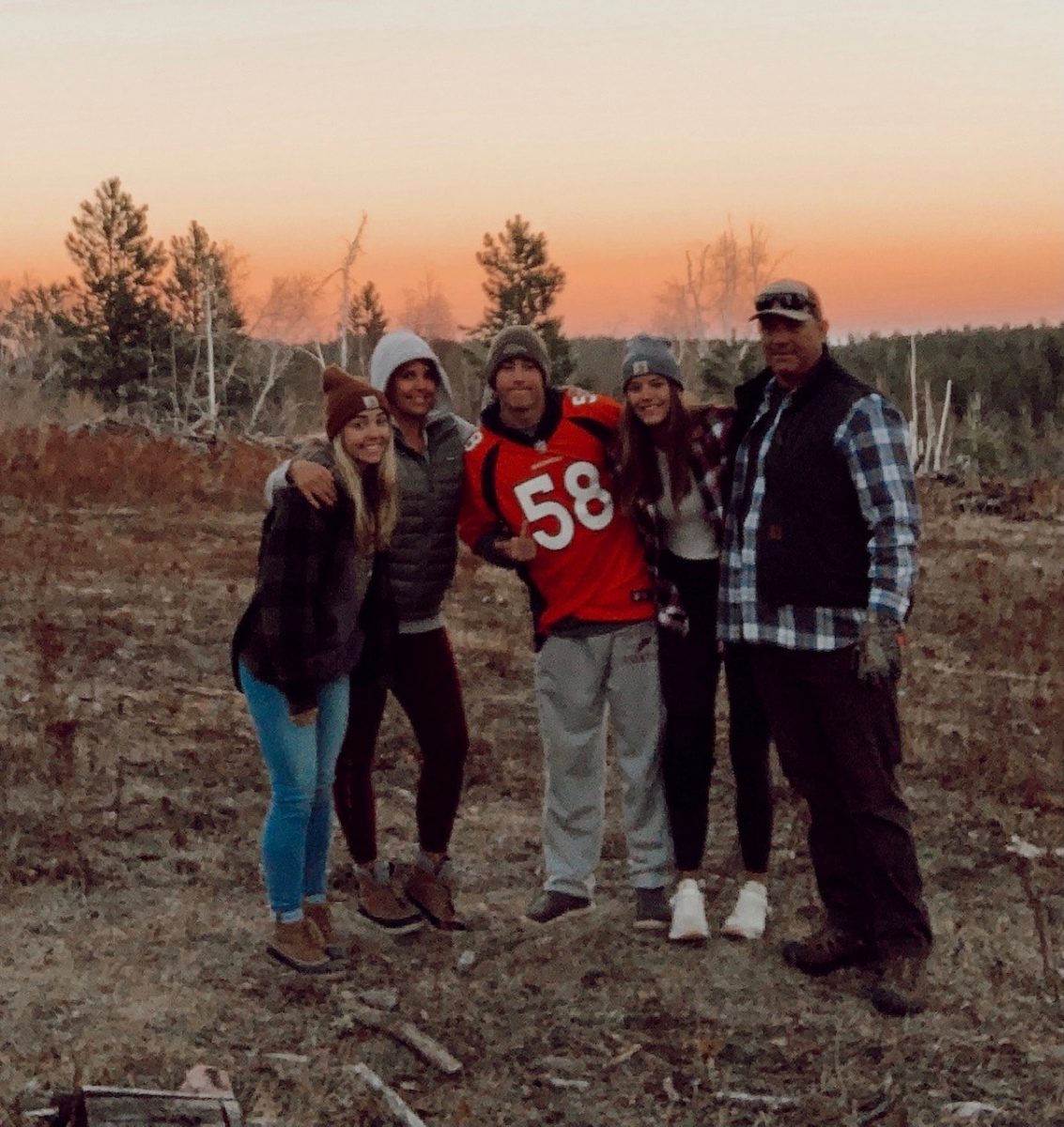 We thank the stellar Symonds for sharing their story with us.  They are great members of our Powder House Pass community, whom we so enjoy! 
-Kristin Pavon (on behalf of Powder House Pass).
Share Your Photos
We invite Powder House Pass residents/guests to please send any photos you might like to share of you/family/friends enjoying life at PHP or in the Black Hills area.  We will possibly use them on our website and/or through other marketing venues, such as our Newsletter, Facebook, etc.
Find Out More
For additional information about Powder House Pass, the amazing Black Hills area, activities/events, feel free to explore the following links.  We'd welcome you to like/follow us on the Facebook link provided below, as well.