PHP Express, August 2019
Welcome
Welcome back for Issue 2 of the PHP Express Newsletter!  We're pleased to have you join us once again, and are excited to share this next issue with you.

PHP Updates
Community Building: 
Many Powder House Pass residents and property owners have been enjoying the Community Building, pool, and firepit!  The PHP staff thank you for keeping things clean and in good shape.  And, we are delighted to see that the facility brings you additional enjoyment.
Covenants:
The Covenants are being updated, as most of you are now aware.  The list of building materials has been expanded, the maximum size allowable for an outbuilding has been increased, etc.  Please let us know if you have any questions or we can help you with clarification.
Road Repair:
The weather has not cooperated with PHP's road repair due to a very rainy spring and summer, and we very much appreciate your patience and understanding.  The company doing the repairs has started once again, and we hope the ongoing process will soon be completed.  
Road Sweeper:
In an effort to keep the roadways clean, PHP recently purchased a road sweeper to assist with removing gravel on the roads due to construction. 
Parking:
A reminder to our residents and their guests/renters: parking is not permitted on the PHP roadways or cul-de-sacs, at any time, nor is parking vehicles on yards/lawns.  A good way to create extra parking is by having a parking pad on your property, next to a garage, but not
fronting the home/between the home and roadway.  The recommended pad creates additional space for cars, trailers, etc., subject to approval by the CID Architectural Review Committee.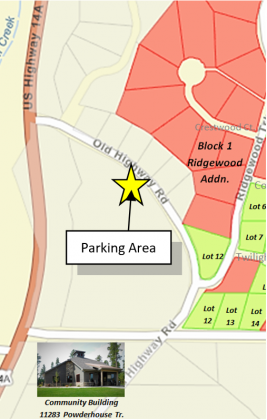 Overflow Parking for Trailers:
To help alleviate some of the parking problems for residents and guests, we have created a parking pad for overflow trailer parking.  The location of this parking area is just off the old highway/Embers Way (see map).  Please note that Embers way will soon be upgraded/improved, and thus access may not be possible while construction is taking place.  It will be completed by late fall (weather permitting). 
PHP Activities
Open House
Saturday, August 24 | 10:00a.m. - 4:00p.m.  
Powder House Pass Open House located at Powder House Pass Community Building.  Feel free to stop by and explore all PHP has to offer!
People of PHP
THE SCHUTS
Come aboard the tracks again to get acquainted with the spectacular Schut family and enjoy the interesting story about their destined experience at Powder House Pass…
Currently residing in Sioux Falls, SD, the Schuts own a beautiful home in PHP as well, which they also use as a rental property, named Sugarfoot Retreat.  Jen is a pharmacist and Clinic Supervisor with Sanford, while Tim works at First Premier Bank, managing the Private Banking and Wealth Management team.  They have 3 lovely daughters, ages 9, 11, and 13.
Their intriguing adventure began 19 years ago, while honeymooning at a friend's family cabin in the Northern Black Hills.  The Schuts enjoyed their time at the cabin near Terry Peak so much that they returned with family and friends several times in successive years.  "From that moment 19 years ago, we dreamed of having a place in the Hills," Tim stated.
As time continued, the Schuts became more serious about obtaining a piece of Black Hills beauty for themselves.  Thus, 12 years ago, they combined efforts with some friends who could potentially be business partners in a cabin.  They explored many properties together.  However, at the time, Jen and Tim had one child, with another on the way, and their friends were due to have their first child shortly, as well.  Therefore, they agreed the timing wasn't right to invest in a Black Hills property.  So, the idea was couched until…
Jen and Tim went back to Jen's hometown church for their niece's baptism in the Spring of 2018.  Following the service, Jen was visiting with Lee Limmer, a man who lived a short distance from Jen's parents.  (Both Jen and Tim grew up only 10 miles apart, graduating from Chester).  Upon getting in the car to leave after the church service, Jen relayed that she had a nice visit with Lee.  And, it turned out that Lee's son, Mike Limmer (also a former Chester student), had a home in the Hills, which he was renting successfully.
Coincidentally, the very next day, Tim bumped into their first-grade teacher and her husband, whom had been their elementary principal.  They told Tim they had just returned from their own cabin in the Black Hills.  And, they recommended Tim talk to Mike Limmer, who has a place there.  Further, they stated that Jen and Tim should visit with Greg and Jennifer Kaschmitter, owners/developers of Powder House Pass.  Tim provided their former teacher and elementary principal with his phone number, requesting they share it with Kaschmitters.  Later that day, Jennifer Kaschmitter called Tim.  Within their first conversation, Jennifer told Tim that Mike Limmer had a place at their development.  Tim relayed this portion of the story, saying, "Mike Limmer – his name came up 3 times in 3 days.  I needed to take action!"
As if those coincidences and strange occurrences weren't enough, when Tim was visiting about meeting arrangements with Jennifer Kaschmitter to further discuss PHP, they found out they live only 3 blocks away from each other in Sioux Falls!  Later, they met for coffee, discussing Powder House Pass Development and available lots.  In addition, Jennifer showed the Schuts some spec home photos.
Tim stated, "Now it was time to call Mike Limmer.  Mike spoke very highly of the development and was also kind enough to share what kind of rental history he had been seeing and who he was using for a property manager.  That following weekend we had a huge blizzard.  I used that opportunity to clean out the file cabinet in my home office.  And what did I find?  The folder from 12 years ago with all of the Black Hills properties we looked at with our friends 12 years ago!"
On their next trip to the Black Hills, the Schuts viewed a PHP property and compared it to others in the area.  They said, "There was no comparison."  They decided to meet with the Kaschmitters at PHP and agreed to purchase their future Sugarfoot Retreat.  And so ended their fated journey into Powder House Pass.
When asked what sets PHP apart from other developments, the Schuts said, "Location, Location, Location."  Jen and Tim described Powder House Pass as "majestic."  "From our four seasons room in our home, you can see the path that connects to the Mickelson Trail and Terry Peak!  The Clubhouse is a nice walk in the summer and a short drive in the winter.  Our renters love that it is blacktop non-stop all the way into our 3-stall garage.  And, if they want to rent snowmobiles, ATV's or UTV's, Recreational Springs is only a mile away.  Plus, Spearfish Canyon, Lead and Deadwood are all less than 10 minutes away."
Jen, Tim, and their girls enjoy walking the Mickelson Trail as a favorite activity, as well as riding the trails in their Polaris Ranger ATV, describing all as "relaxing."  They said that prior to buying Sugarfoot Retreat in PHP, they had never been on the Mickelson Trail, and fell in love with the beauty of it.  Plus, they like that they can see the Powder houses (the development's namesake) from the trail itself.  They called it all "amazing."  In addition, their family relishes in the great restaurants in the area, including nearby Lewie's great burgers, Lead's Stampmill for exceptional food and service, and Deadwood's Eagle Bar for a diverse and kid-friendly menu (their 9-year-old loves the steak tips)!
Their Sugarfoot Retreat has been host to the Schuts' extended family on numerous occasions.  They joyously stated, "What we love is that our living room, kitchen, and four seasons room are all wide open, connected space, so we can have everyone in the same spot for meals, games, and fun!"
One positive unexpected addition to the Schut's lives at PHP has been the friendships forged within the community.  They state that they've gotten to know numerous property owners, and "it has been great getting to know Jennifer and Greg Kaschmitter (owners/developers of PHP), as well as Billy, the head of maintenance at PHP." Budi Kusser, Black Hills Adventure Lodging property manager, with whom they work was also described as "awesome."

A big THANK YOU to the Schuts for their generosity in allowing us to peek into their lives and experiences at PHP and in the Black Hills.  We're so happy to have you as part of our outstanding community!  Enjoy the following photos the Schuts were kind enough to share, and note the pics in the pool and game room are from PHP's very own Community Building!
-Kristin Pavon (on behalf of the Powder House Pass Team)

Share Your Photos
We invite Powder House Pass residents/guests to please send any photos you might like to share of you/family/friends enjoying life at PHP or in the Black Hills area.  We will possibly use them on our website and/or through other marketing venues, such as our Newsletter, Facebook, etc.
Find Out More
For additional information about Powder House Pass, the amazing Black Hills area, activities/events, feel free to explore the following links.  We'd welcome you to like/follow us on the Facebook link provided below, as well.