PHP Express, February 2021
Welcome
Happy February!  We are pleased to present the PHP Newsletter Issue 8.  Powder House Pass hopes you all have felt the love of this Valentine's month and are creating fantastic new Black Hills memories with all the wonderful experiences there are to explore in this great place!
PHP Updates
Status of Development:
The newest area of Powder House Pass that we've recently opened is the first of Phase II of the development.  And it is called Trailside Addition (Phase II).  Sales are still running high with momentum.  We have sold 13 lots since the beginning of January 2021.  Below you may find the lots we currently have remaining within this segment, as well as the previously opened Dancing Sky.
Trailside (Phase II) lots remaining at this time include:
Block 3, Lots 3-4 & 6-8
Block 4, Lots 2-4, 7, 11-15, & 17
Block 5, Lots 1-4
Block 6, Lot 9
Block 8, Lots 9-10
Dancing Sky lots remaining at this time include:
15-17, & 19-20       
Again, the roads and infrastructure within Dancing Sky will hopefully be completed sometime this Spring, weather permitting.  And, Trailside Additions are anticipated for completion Spring-Fall, as weather permits, at which time, home construction can begin.
Century Link Fiber:
Fiber is still in the process of being installed.  For those areas already developed at Powder House Pass, we estimate completion by Spring 2021, weather permitting.  We continue to be thrilled to be able to provide this asset for our owners, renters, and guests!

Overflow Parking for Trailers:
A reminder to our residents and their guests/renters: no trailers are allowed on the PHP roadways or cul-de-sacs, nor is parking vehicles on yards/lawns.  A good way to create extra parking is by having a parking pad on your property, next to a garage, but not fronting the home/between the home and roadway.  The recommended pad creates additional space for cars, trailers, etc., subject to approval by the CID Architectural Review Committee.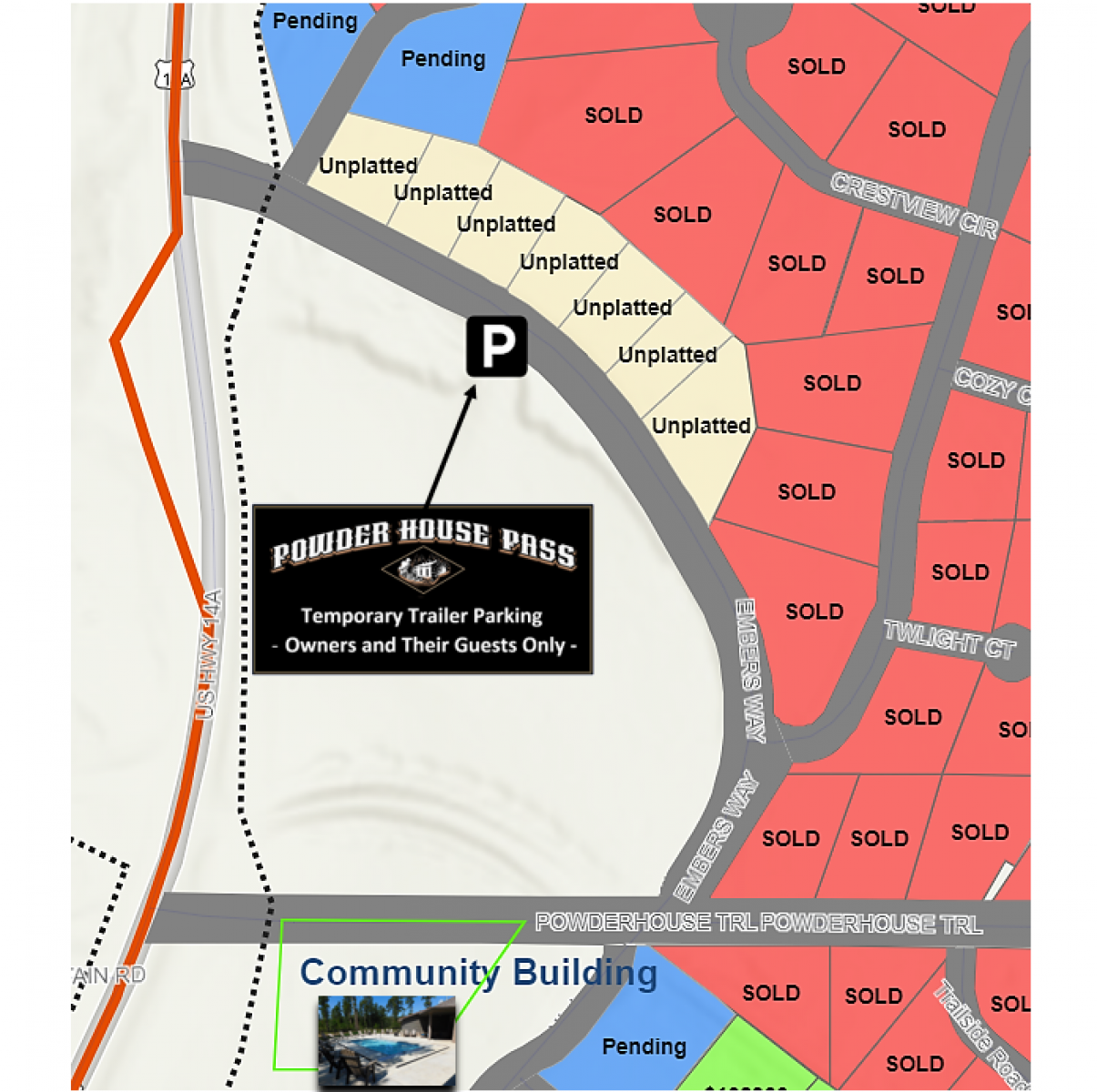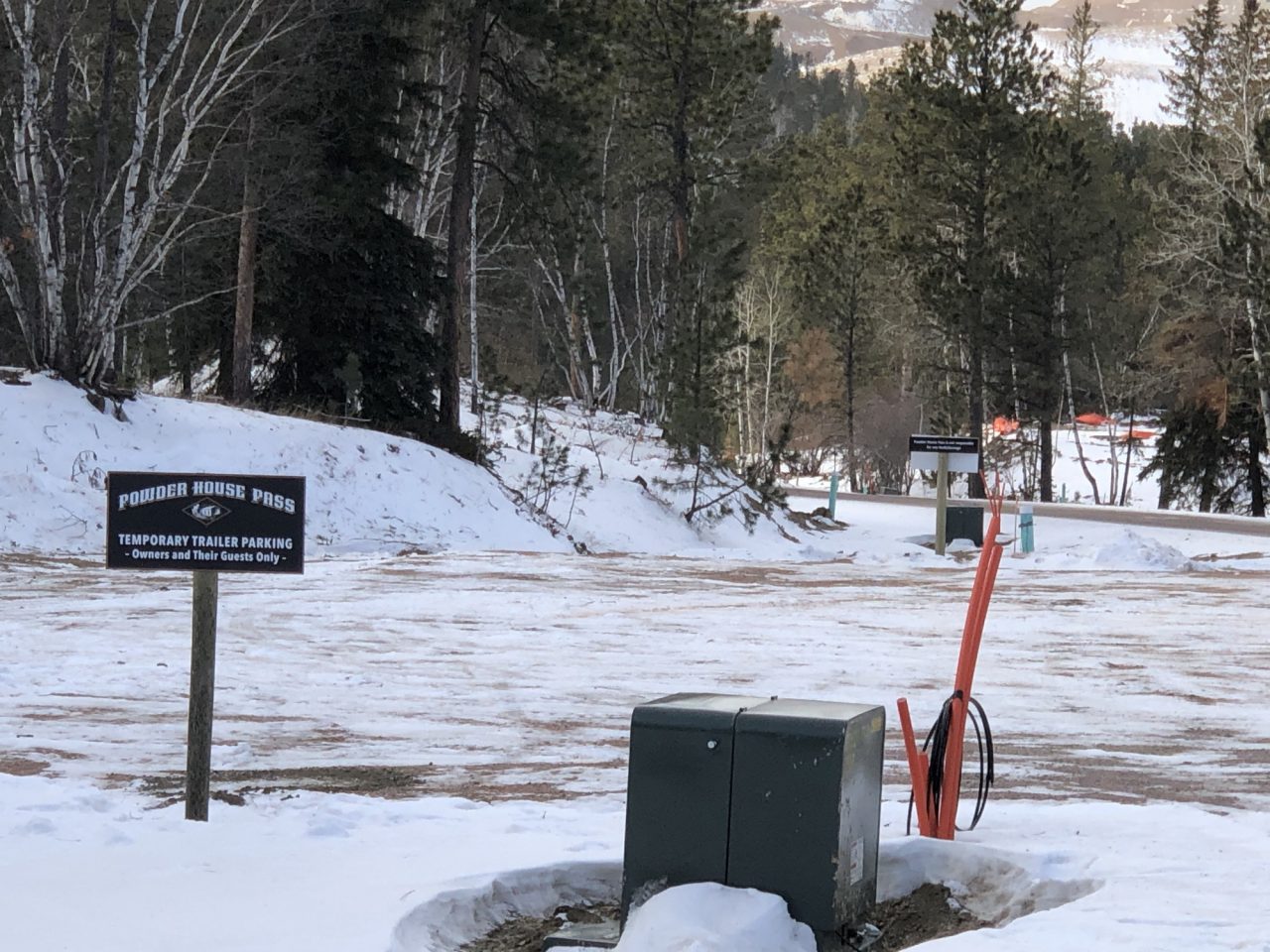 To help alleviate some of the parking problems for residents and guests, we have created a parking pad for overflow trailer parking. We suggest that you lock your trailer when it is parked in this area since PHP is not responsible for the trailers nor their contents. The location of this parking area is just off the old highway/Embers Way (see map).
FYI:  Additional trailer parking is also available at Recreational Springs, which is approximately a mile south on Hwy 85.  It is a State designated parking area and is adjacent to the Snowmobile Trail. 
People of PHP
BARB & RICH BAUMAN
Welcome to the story of Barb and Rich Bauman, a wonderful couple with a beautiful family, who are full-time residents at Powder House Pass.  A Rapid City transplant, having grown up and spent the majority of his life in the area, Rich has a strong affinity for the Hills, having raised his family here.  Hailing from Chicago, upon meeting Rich and working in the same industry, Barb moved to the Hills in 2009.  They have a family retail business that Rich and his father purchased together in 1982.  Barb still works there, commuting to Rapid City on business days.  However, she said, " I get to work with our kids, so what could be better?"  Their son, and one daughter-in-law work with her every day.  But, Barb says she's "looking forward to the day they tell me that they don't need me anymore!!" (Chuckle).
Their story at PHP began in the Fall of 2016 when they made an appointment to view some of the lots.  For a number of years, they had hunted for an area for their home, but couldn't find something that met with their wishes.  Rich was looking forward to retirement at the end of 2016, really hoping to build something special for this time in their lives.  Being a planned community with all its amenities, PHP excited them.  And they fell in love with the lot they purchased and, on which, they've built their lovely home.  Both of them feel it a blessing to live and enjoy this beautiful place.
When they built their home, they decided to down-size.  Having 3 of their 4 children and their families (including 3 grandchildren) in the area, Barb and Rich thought their family would come for visits and then go home, not being far from their own homes.  Barb said, "We were wrong!!  They like to stay,  and we like to have them.  When our daughter and her family (3 grandchildren) come from AZ, everyone moves in!!"  She also said their friends like to stay with them as well.  Thus, all that being said, they're now building an addition to their home!  Barb said their family all love to visit, creating great times together, as well as a chance to slow down, escaping to a sense of calm and family fun.
Very appealing to the Bauman's is the location of Powder House Pass, with close proximity to great 4-wheeling opportunities, as well as hiking trails, especially the Mickelson Trail, for which PHP has its own direct connection off one of its boundaries.  The maintained infrastructure with water, sewer, and natural gas are an additional draw for them.  And they went on to state that they also appreciate the amenities, "such as the beautiful club house, pool, snow removal (thank you John! - PHP's Operations Manager) and high-speed internet coming soon."  Barb and Rich love the beauty/location of Powder House Pass within the Black Hills, as well.  When asked what word or phrase describes PHP for them best, they said, "It is Home!"
As outdoor enthusiasts, 4-wheeling and hiking are amongst their favored activities.  But they also enjoy exploring the Hills, taking scenic drives, visiting the high country, and finding new areas to share with family and friends.  Further, they love stopping by some of their beloved haunts, such as Sunday afternoons at Moonshine Gulch in Rochford.  Barb said they like the experience of the local musicians there who congregate from all over the area for outdoor concerts, singing and playing in the late afternoon.  And she went on to state that Betsy, the cook there, will serve you up with a great burger, while you visit with locals from the area, as well as tourists/visitors.  While there are many fantastic restaurants in the area, Barb explained that they find themselves dining in their own home, for the most part.  They love to enjoy a glass of wine and cook together, taking in the beautiful evenings with sunsets and quiet.
Please enjoy the following pictures from their family/the area, which Barb and Rich were kind enough to share with us:
Thank you to the wonderful Bauman's for allowing us to peek into their world in the Black Hills!  We so enjoy having you as part of Powder House Pass! 
- Kristin Pavon (on behalf of Powder House Pass)
Share Your Photos
We invite Powder House Pass residents/guests to please send any photos you might like to share of you/family/friends enjoying life at PHP or in the Black Hills area.  We will possibly use them on our website and/or through other marketing venues, such as our Newsletter, Facebook, etc.
Find Out More
For additional information about Powder House Pass, the amazing Black Hills area, activities/events, feel free to explore the following links.  We'd welcome you to like/follow us on the Facebook link provided below, as well.