PHP Express, August 2020
Welcome
Thank you for joining us for the sixth Issue of the PHP Express Newsletter.  We are happy to welcome you back, having lapsed one newsletter in our series due to the pandemic.  PHP hopes you are well and healthy, as well as excited for all the beautiful Fall colors just around the bend.

PHP Updates
Future Development = Dancing Sky:

Powder House Pass is expanding with another exciting phase of development known as Dancing Sky, just off Hwy 14A and the new PHP road Embers Way, heading north along the snowmobile trail.  The area is currently under construction with utility implementation; paving will probably occur in early spring, 2021, weather permitting. 
Overflow Parking for Trailers:

A reminder to our residents and their guests/renters: no resident/guest parking of vehicles or trailers is allowed on the PHP roadways or cul-de-sacs, nor is parking vehicles on yards/lawns.  A good way to create extra parking is by having a parking pad on your property, next to a garage, but not fronting the home/between the home and roadway.  The recommended pad creates additional space for cars, trailers, etc., subject to approval by the CID Architectural Review Committee.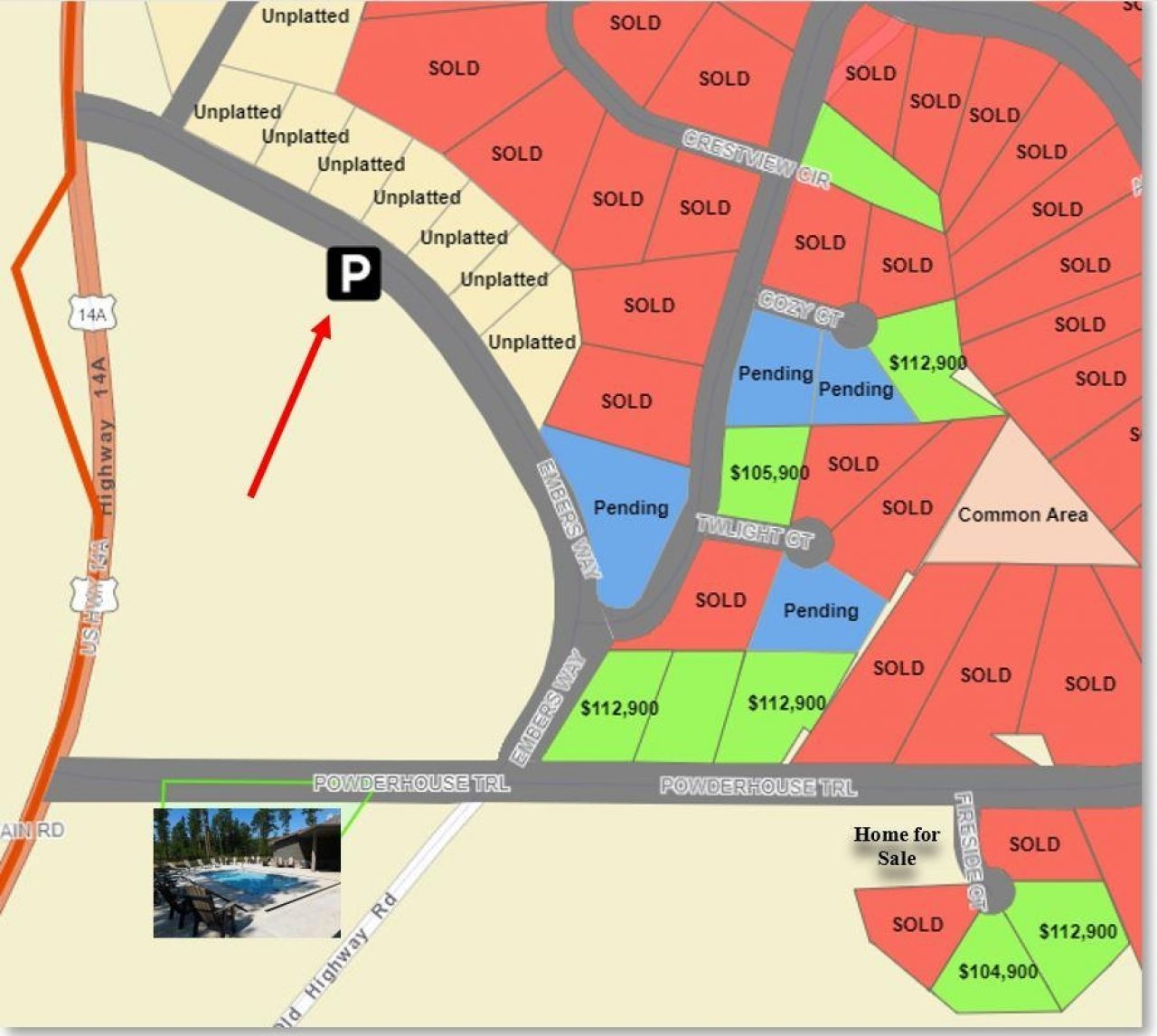 To help alleviate some of the parking problems for residents and guests, we have created a parking pad for overflow trailer parking. We suggest that you lock your trailer when it is parked in this area since PHP is not responsible for the trailers nor their contents. The location of this parking area is just off the old highway/Embers Way (see map).  Please note that Embers Way, which will provide an additional access road into PHP, has just been completed! 

FYI:  Additional trailer parking is also available at Rec Springs, which is approximately a mile south on Hwy 85.  It is a State designated parking area and is adjacent to the Snowmobile Trail. 
People of PHP
TERI ABEL & ROSS ORTMAN
Meet a wonderful couple, Teri Abel & Ross Ortman, who own a vacation home, and two additional adjacent lots in PHP.  Their permanent residence is north of Sioux Falls in Renner, SD. Teri is not only a board member, but also a volunteer for HorsePower, a Sioux Falls nonprofit that uses the influence of horses, healing therapeutically to aid those with varying physical, mental, or emotional challenges.  Ross owns Dakota Digital, "which designs and manufactures analog and digital instrumentation and electronic accessories for custom cars, trucks, and motorcycles."
Their entry into PHP began with the Sturgis Motorcycle Rally.  Ross is a motorcycle enthusiast and additionally, his company, Dakota Digital, is also involved in the motorcycle market.  Thus, Ross attends the Rally yearly.  Coupling that with really enjoying the area, about 15 years ago, he began his expedition to claim a piece of the Hills for himself.  Teri and Ross eventually stumbled into owners/developers, Jennifer and Greg Kaschmitter, and Powder House Pass (which was just in its initial phases, as Wilderness Estates).  Teri explained, "The development had what we were looking for: paved level roads, beautiful spacious wooded lots with great views, proximity to all the activities we were looking forward to experiencing, trail access to 4 wheeling, snowmobiling and hiking right from our future get-a-way home, setting it apart from everything else in the area."  If one phrase had to be chosen to describe PHP, Teri said it would be, "tranquil attitude."
They both enjoy so many things in the area, including multiple visits during the warm seasons, whether alone or with friends/family.  Teri went on to say how much they love the 4-wheeling trails, attending concerts and all the special events in Deadwood, and predictably, the Rally.  They never miss the yearly SnoCross event in Deadwood during winter.  And the Sled Haus in Lead, SD, has become one of their traditional and favorite restaurants to frequent.  Teri and Ross expressed their love for its German menu, but especially their burgers!  Andy's Trail Rides, just across the road from PHP, is also a MUST when they have guests.  Teri said, "There is no better way to experience the stunning views from those areas inaccessible by any transportation other than horse back."  She also went on to say that, "There are so many different things we find to do in the area that it's hard to pick an actual favorite, however, I'd say we find ourselves in Deadwood enjoying their events more than anywhere else."
Explore some photos of Teri and Ross enjoying time in the Hills and Powder House Pass, as follows…
Teri and Ross, we're grateful for you sharing a bit about your life and experiences at Powder House Pass, and we so value having you as part of our development.  Thank you!
-Kristin Pavon (on behalf of the Powder House Pass team)
Share Your Photos
We invite Powder House Pass residents/guests to please send any photos you might like to share of you/family/friends enjoying life at PHP or in the Black Hills area.  We will possibly use them on our website and/or through other marketing venues, such as our Newsletter, Facebook, etc.
Find Out More
For additional information about Powder House Pass, the amazing Black Hills area, activities/events, feel free to explore the following links.  We'd welcome you to like/follow us on the Facebook link provided below, as well.