PHP Express, February 2020
Welcome
Welcome back to our fourth Issue of the PHP Express Newsletter.  We wish you the best in this second month of our new year, as we're fully into all the fun activities winter provides in our amazing area of the Black Hills.
PHP Updates
John Pavon – Premier Choice Contracting
We're pleased to inform you that John Pavon, of Premier Choice Contracting, has recently come on board to aid Powder House Pass Development with a whole host of items, including main road snow removal within PHP, some Community Building elements, assisting with Waste Water Treatment Plant activities, etc.  He is also currently involved with spec home construction within PHP, off Powderhouse Trail, on Fireside Court.  Owners can independently contract with John for snow removal, etc., as well.  He is a "jack of all trades," with a strong background in Operations Management.  Please contact PHP's Sales Office if you'd like more information:  605-254-0032.  John & Kristin Pavon (our Director of Sales), both pictured below, are pleased to be a part of the Powder House Pass team and helped host the SnOpen House last month at PHP's Community Building.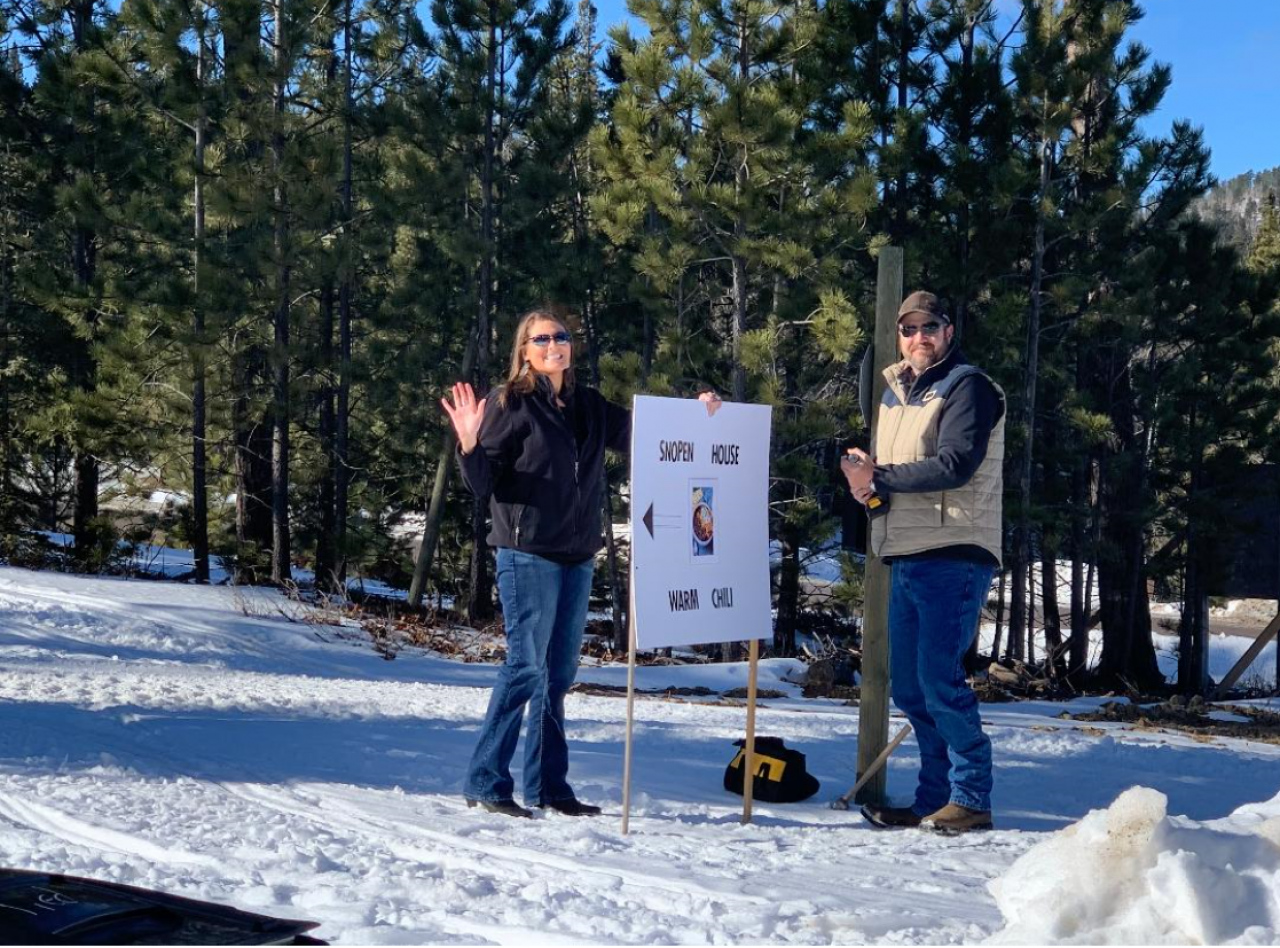 Newest Additions
For those of you who weren't aware, we recently opened up new areas of the Development for purchase.  You may find them highlighted in the map below, with a yellow dotted line surrounding them.  If you would like any additional information regarding these, please contact our Sales office at:  605-254-0032.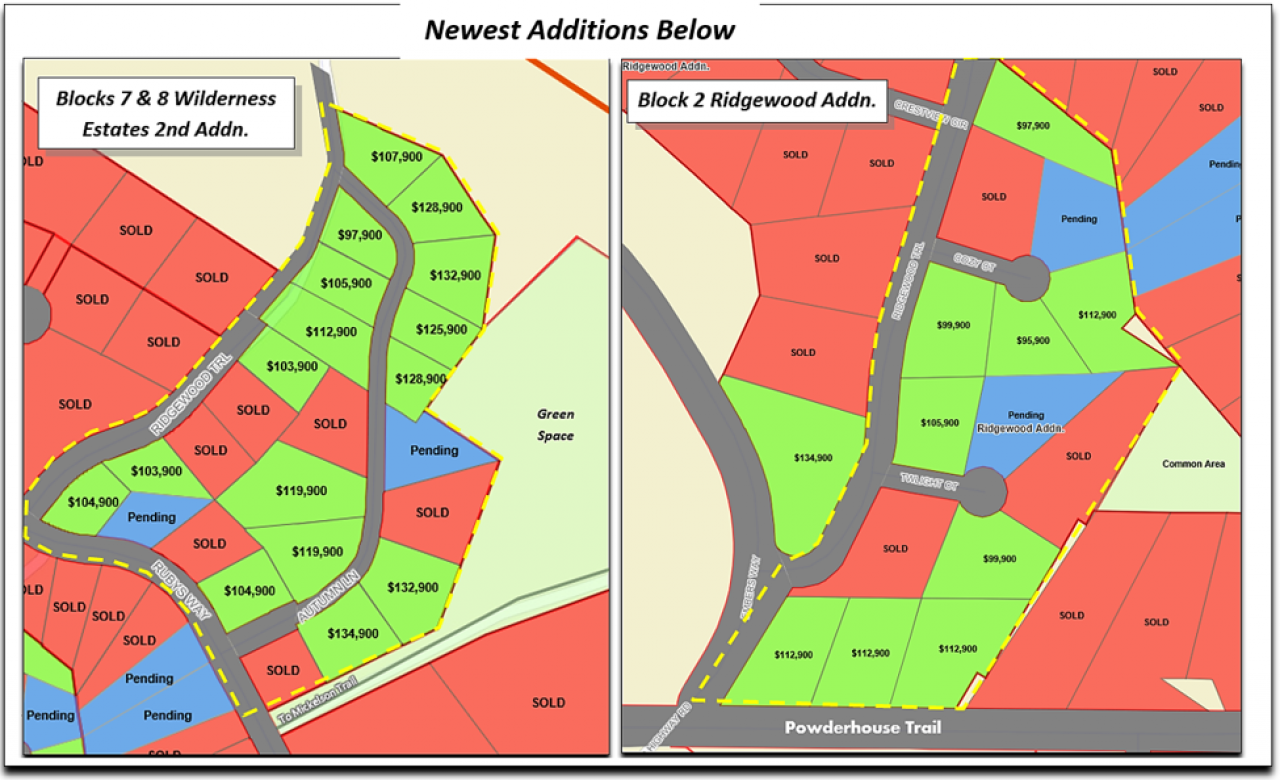 PHP Logo
You may have noticed that we've started to roll out our new logo (below right).  It's not fully in place through every venue of our advertising yet, but will be in the future.  You may note that we've kept the pine trees and have incorporated a depiction of a train going by a powder house, our namesake, for which a few may be found along our Northeast boundary (on BLM land).  Powder Houses (below left) were used in our area to store dynamite used for mining.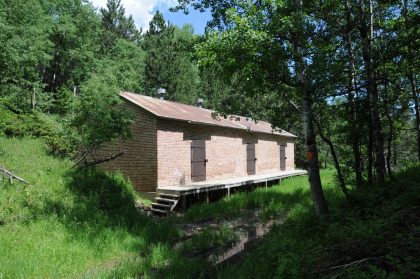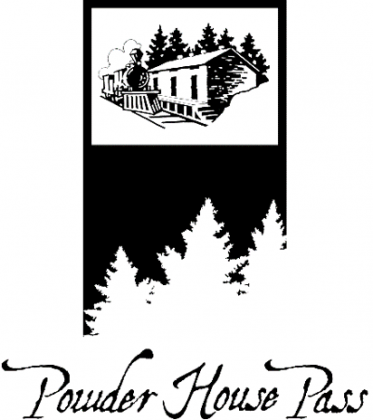 Parking
A reminder to our residents and their guests/renters: no resident/guest parking is allowed on the PHP roadways or cul-de-sacs, nor is parking vehicles on yards/lawns.  A good way to create extra parking is by having a parking pad on your property, next to a garage, but preferably not fronting the home/between the home and roadway.  The recommended pad creates additional space for cars, trailers, etc., subject to approval by the CID Architectural Review Committee.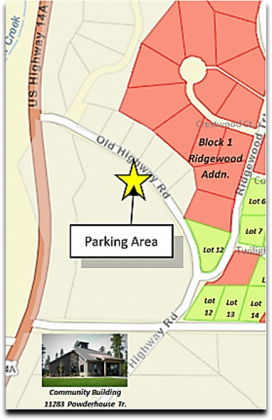 Overflow Parking for Trailers
To help alleviate some of the parking problems for residents and guests, we have created a parking pad for overflow trailer parking. We suggest that you lock your trailer when it is parked in this area since PHP is not responsible for the trailers nor their contents. The location of this parking area is just off the old highway/Embers Way (see map).  Please note that Embers Way is in the process of being upgraded/improved, and thus access may not be possible while construction is taking place. Embers Way will be completed as weather permits.  FYI:  Additional trailer parking is also available at Rec Springs, which is approximately a mile south on Hwy 85.  It is a State designated parking area and is adjacent to the Snowmobile Trail.
PHP Activities
The Powder House Pass Sales Team will be present at the following Home Shows over the upcoming months.  And, we'd love to see you if you're able to stop by:
Sioux Falls, SD Home Show    2/21-2/23/2020
Denver, CO Home Show          3/20-3/22/2020
Rapid City, SD Home Show     3/27-3/29/2020
People of PHP
LYNNE KINSLEY 

We'd like to introduce you to a great PHP Community member and owner, Lynne Kinsley.  She owns a home located on Ruby's Way.  Not only does she use it for her large family, but it's also used as a rental property when she and her family aren't there to enjoy it.  Lynne's family used to own the Murdo, SD, Triple H Truck Stop, and ran it for over 40 years.  They now have a tire shop in Murdo, as well as two vacation homes in the Black Hills.  Lynne has 3 grown children and comes from a large family, with loads of nieces, nephews, great nieces, great nephews, grandchildren, and has one great grandson on the way!
Lynne's entry into Powder House Pass began when shown two homes in the development.  She kept coming back to one of them, which she later purchased.  The beautiful location with large trees, as well as the home's 5 bedrooms were a big draw.  Further, Lynne said, "Knowing that we could ATV and snowmobile right out of the property to many National Forest trails was so important to our families."  Lynne and her family began venturing to the area first when snowmobiling in the 1970's and are pleased to now finally have their own property in the Black Hills.  Lynne stated that they even met up with Governor George Mickelson (namesake of the Mickelson Trail in our area) several times on the trails at popular locations.  She said he also enjoyed frequenting the area with his family.
Favorite things about Powder House Pass for Ms. Kinsley include the beauty, easy access to their home with the paved roads in the development, as well as the "beautiful Community room and pool."  They've taken advantage of the Community Building for family events/gatherings.  Lynne boasted, "That is an option that I don't know any other developments have!"  Lynne's one word to describe Powder House Pass is, "wilderness."
She and her family enjoy continuing their tradition of snowmobiling in the area.  But they've also taken up 4-wheeling.  Her favorite activity in the area though, is just being together with her family out here.  One unexpected positive addition to her/her family's lives at PHP is that they've gotten to know some of their return guests who come back time and time again to enjoy the area.  They have also had several friends and families from Iowa who have stayed at their properties.  And, those guests also mention the Black Hills beauty and the unlimited activities for all ages.  Lynne further went on to say, "it has been great working with the staff at PHP."  And, "using the community center has been a great benefit to us and our guests.  The best times are roasting marshmallows there while visiting around the firepit, or a hot game of cards after a day on the trails, and a grilled burger on the deck."
As far as other activities in the area, Lynne said Bear Country, Reptile Gardens, the Alpine Slides, and Zip lines are a must for the kiddos in the family.  And, the adults like to dabble in a little gambling and visit the museum in Deadwood.  All ages like to take in the reenactment of the old west gun fighting on Deadwood's Main Street.  And, while Lynne said that it's hard to choose one favorite restaurant in the area, Lead's Lewie's is the best joint for a burger and a beer and The Lodge in Deadwood is good for a longer sit-down meal and gambling.

Check out some photos from Lynne of her/her family enjoying time at PHP & in the Hills.
Thank you, Lynne, for allowing us a look at your life at PHP and in the beautiful Black Hills.  We appreciate you choosing to be a member of our community!
-Kristin Pavon (on behalf of the Powder House Pass team)
Share Your Photos
We invite Powder House Pass residents/guests to please send any photos you might like to share of you/family/friends enjoying life at PHP or in the Black Hills area.  We will possibly use them on our website and/or through other marketing venues, such as our Newsletter, Facebook, etc.
Find Out More
For additional information about Powder House Pass, the amazing Black Hills area, activities/events, feel free to explore the following links.  We'd welcome you to like/follow us on the Facebook link provided below, as well.